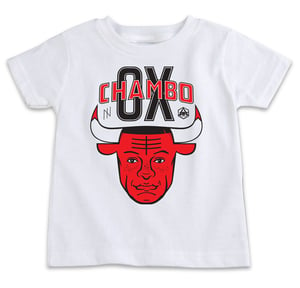 £

9.99 - On Sale
There is no sight more enthralling than The Ox barrelling down either wing, going to shoulder-to-shoulder with defenders almost twice his age. He pays no heed to seniority, or reputation, hurdling those obstacles like the tackles that snap at his ankles, vaulting onward towards the goal.
Challenges that would intimidate others are a red rag to this bull-dozer of a player. Whatever the circumstances, he sticks to what he knows: bewilder them with skill, then frighten them with raw pace and strength. He's The Ox – Arsenal's Power Forward.
The shirt is manufactured using 100% ringspun cotton and features a graphic by North Internet. The Gildan style means it'll fit female Gooners as well as men.
We ship all around the world - to the UK, US, just about anywhere you want! We do suggest that where possible customers in India find an alternative delivery address, as we've encountered problems with their postal service.